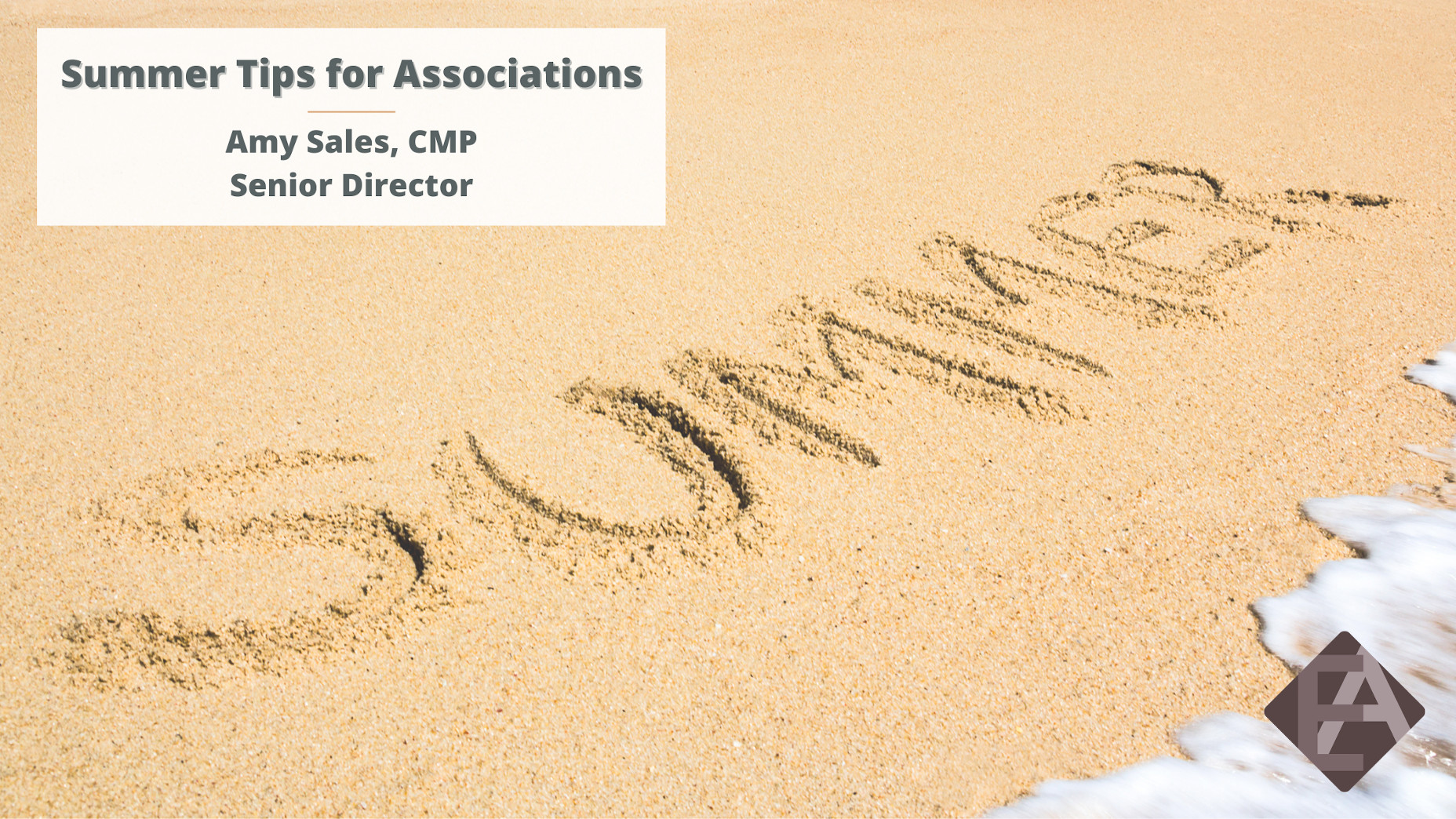 By: Amy Sales, CMP
Summer is a time to relax, but your association's work doesn't stop when the weather gets warm. In fact, summer is the perfect time to reflect on what's happening within your association behind the scenes and promote your association to the public. Everyone seeks some sun these next few months, so here at Easter Associates we put together these five tips to make your association shine!
1. Make Your Vacation Itinerary
Keeping a summer schedule for your association is a must. Much like a vacation, everything can fall apart if there is no pre-planning or structure. Plan for Board members' vacations, hire seasonal help, and anticipate what members might need in the summer depending on the business of your association. Also, set specific seasonal goals. Having these ideas in mind will help you avoid the natural sluggishness the sunny months can sometimes cause.
2. Get Creative
Summer is a great time to be inventive and try new strategies. With longer days, people have time to let their imaginations roam, and your association can be just what they need to make their summer goals achievable. Let your potential new members and loyal returners know that you are as excited as they are that it is summer. Interact with these groups through events, online or in person, and don't be afraid to try new marketing tactics. Engaging with your audience creatively gets your members excited for the summer and your association's work.
3. The Lemonade Stand
In the summer, a lemonade stand is a for-sure money maker. While creativity is a fantastic method for engaging new and old members, do not hesitate to use a few classic tricks! Offer summer membership discounts, host giveaways, and utilize summer-themed marketing. These timeless summer promotional tactics are sure-fire ways to get people excited about joining your association.
Pro-tip: If you give away free summer merchandise (e.g., T-shirts, beach balls, tote bags) with your logo on it, your current members will be excited for the free merch, and they will be advertising for your association everywhere they go this summer!
4. Get in Shape
While you work out your summer abs, work your power base too. Let your best members know they are a priority this summer. Contact them through direct mail, phone calls, emails, and social media to ask how you can make your association work for them this season. Actively work with your members to show them you care. Update your website, distribute fliers, and engage. Take the initiative to let people know you are working hard throughout the vacation season and can offer something valuable to their goals.
5. Grow Your Association
Summer is the perfect time to grow your association. If summer is your busy season, ramp up your marketing tactics and take advantage of what you have! If summer is your slow season, take time to cool down and make plans for a successful fall and winter. Your extra brainstorming might even lead you to a breakthrough marketing strategy for boosting summer interaction. Once spring rolls around, you will be prepared for the busy seasons ahead. Whether you put in the time behind the scenes or in the forefront, your summer work is sure to help your association grow.
What are your association's goals for the summer? Reach out to us and let Easter Associates help.