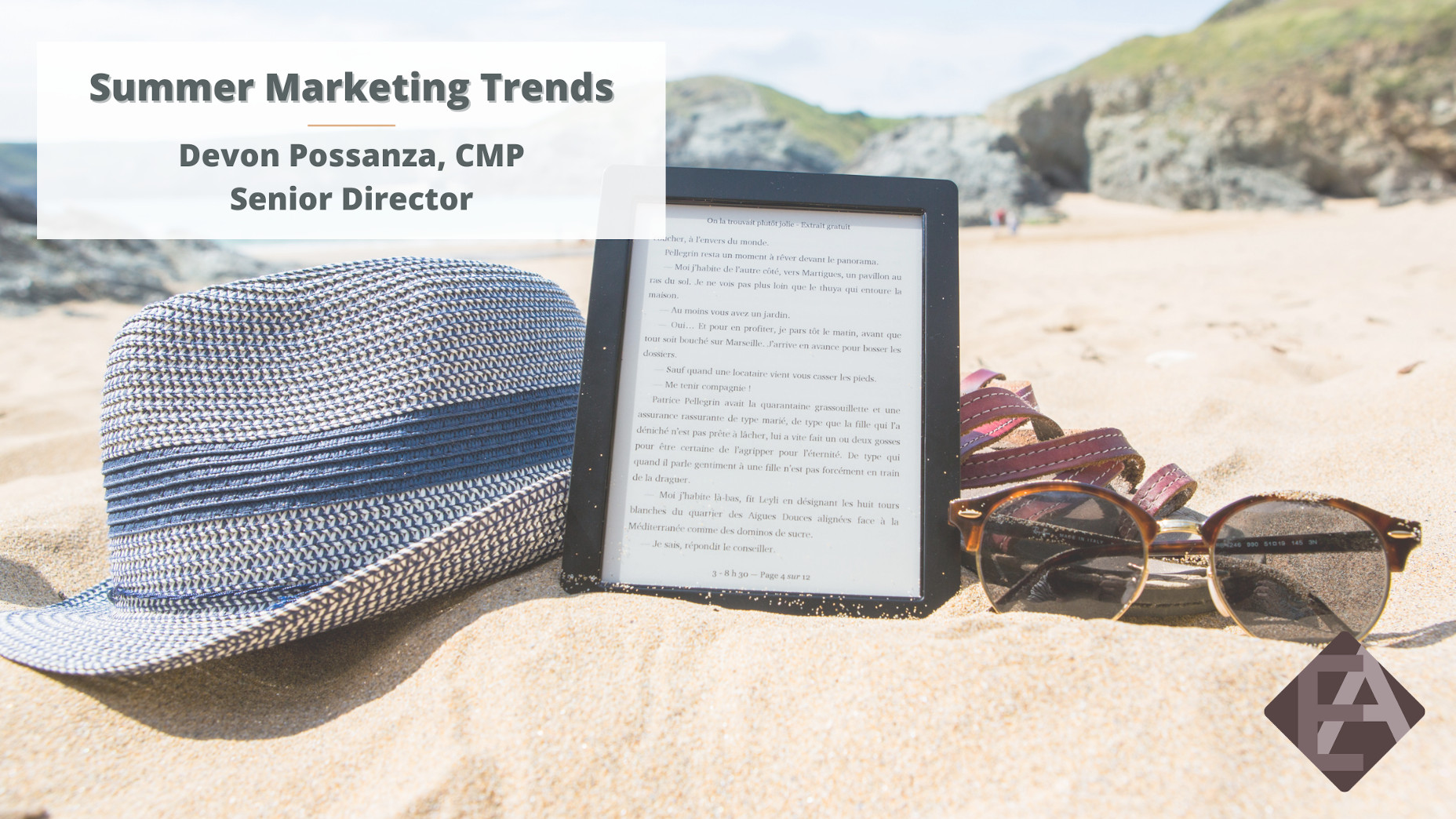 By: Devon Possanza, CMP
Every season has marketing trends, and summer has some especially fun (and effective) options to choose from. This summer don't slack on your seasonal marketing. Take advantage of the warm-weather season and all the opportunities it brings with it! To help you get started, our team has pulled together these highlights of our favorite summer marketing trends – and how to utilize them effectively for your association!
Bright and Colorful Imagery
Summer is a season of bright colors. Use the season's pallet to your advantage. It's important to stay true to your established brand, but a pop of new color will give you a seasonal display no summer-loving audience can resist. Alongside bright colors, use summer-themed imagery like beaches, lakes, sandals, and sea animals. You can use these colors and images as backgrounds for event flyers, your website, social media, advertisements and more.
Flash Promotions and Freebies
Summer is hot, and so are these marketing strategies. Flash promotions are only available for a short period of time, usually one to three days, and encourage people to take action. For example, your association might offer a discounted membership rate to anyone who joins in a certain time frame. Flash sales also encourage members to keep track of your social media so they don't miss upcoming flash sales.
Everybody loves free offers, so this tactic is always a strong one. Include items that suit summertime activities such as water bottles and swimming towels. Members who use the items will provide free advertising for your association. Always make a plan before you create a freebie. Ideally, the product or service you want to sell and the freebie are closely connected, and the freebie encourages the member to return for more.
Show Members You are Excited Too
The people in your association are excited for summer too, so show your audience that you can relate to them. Share a vacation photo or a picture of your favorite summer food. You can always post about your association and what you offer, but also let your followers see what's happening in your life. The more they know you, the more they can relate to you and trust what you are promoting.
Influencers
Influencers shape trends, and summer tends to increase the popularity of influencers. No matter your industry, it can be beneficial to collaborate with other fellow entrepreneurs. Find someone in your business, or someone interested in your business, that has a large following and ask them to do a video with you or to promote your flash sale. You may even be able to get them to endorse your association!
Platform
Summer trends, like most, vary a bit from platform to platform. Make informed decisions and do seasonal research on each. How is the topic or product you're marketing usually discussed on each platform? What platform is your target audience using? Answering these questions will help you be successful in your summer marketing and beyond.
What are your favorite summer marketing trends? Contact Easter Associates this summer for professional advice on implementing these strategies in your association.