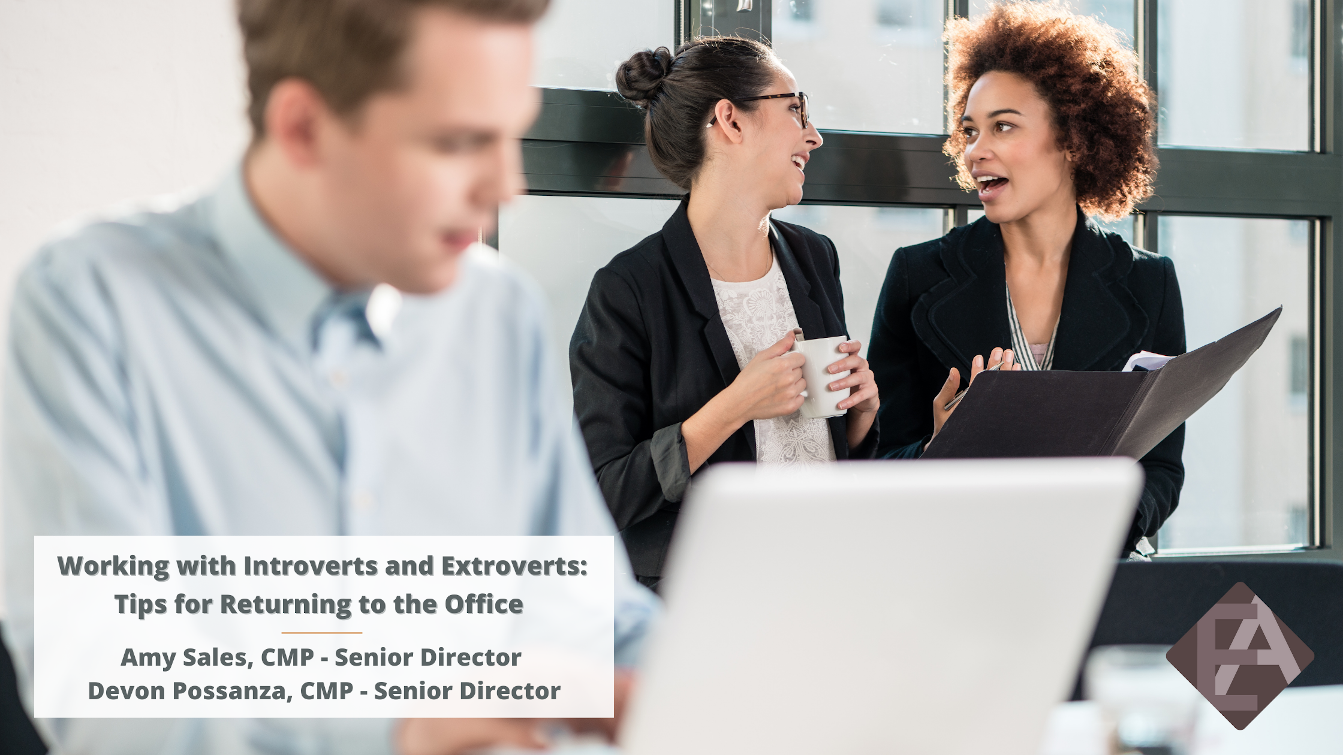 By: Amy Sales, CMP and Devon Possanza, CMP
COVID-19 vaccines are more widely available, businesses are opening their doors, and employees across the globe are preparing to return to work as normal (or close to it). Ready or not, the time has come to return to life after quarantine. For many, this return to normal is reason to jump for joy, but it is important to know that is not a feeling shared by all. Introverts and extroverts gather their energy from different settings and surroundings, so the transition from working from home to being in the office will likely affect members of your team differently.
Extroverts, people who love to socialize and gain energy from being around people, may have been waiting for this day since quarantine began. Alternatively, many introverts who gain energy by spending time alone, may have thrived during this time of social distancing. A lot of introverts may now experience anxiety about the return to the high-interaction world of in-person work. No matter where you fall on the spectrum, you can help everyone as they transition back to work by being mindful of others' feelings and meeting people where they are.
To help your association or business, here are some tips for introverts as they prepare to head back and another set of tips for all team members to ease the transition back to the office.
Tips for Introverts
Schedule alone time into your calendar
Set aside time to reenergize during the day. Take a walk, stretch, or just allot a moment to breathe. In a world with open office spaces and friendly co-workers, you might also consider booking a conference room for a midday break or taking a private lunch.
Avoid getting overly hungry and stay hydrated
Speaking of lunch, keep your body fueled to help you get through the day. Make sure to eat and stay hydrated – don't skip meals and keep liquids with you throughout the day. Eat breakfast each morning and plan a healthy lunch. Regular meals can help ease anxiety and crankiness and increase energy. Keep a safely refillable container at the office to stay hydrated and sip regularly.
Set up for success
Set yourself up for success by having supplies ready for bedtime, bath time, meals, and me time. Make sure to know your roles and responsibilities for each day in advance. Planning ahead will help you stay focused and reduce stress.
Communicate
Communication is key to successful teams. Let others know about your scheduled alone time, or consider asking leadership for a hybrid work schedule.
Tips for Extroverts
Acknowledge others' needs
Understand that your coworkers may feel differently than you and may be struggling with returning to groups. It is important to build trustworthy relationships with your colleagues so that they can feel comfortable working with and around you. If they need to take a break or a breather, acknowledge that, and back away so they can have some alone time. Avoid pop-ins and, when they are unavoidable, ask if the interruption is acceptable or if there's a better time in the near future to cover the timely issue.


Practice mindfulness
Be mindful of your colleagues' personal workspace. While your fellow extroverts may love regular catchup chats, realize your more introverted coworkers may not share that desire to regularly interact. It isn't because they don't care – they just work better when left alone to power their thoughts!
Whether you are an introvert or extrovert, the transition back to the normal work environment is just that – a transition. Take time with yourself to find your new normal and be aware that others are also experiencing the same transition (but in their own way). A lot can happen in a year, and we're all returning to work with over a year's worth of personal experiences, changes, and knowledge. The best association and business teams are built from a combination of all personalities, so work together and follow these tips for success!
How do you feel about the return to in-office work? Let us know!