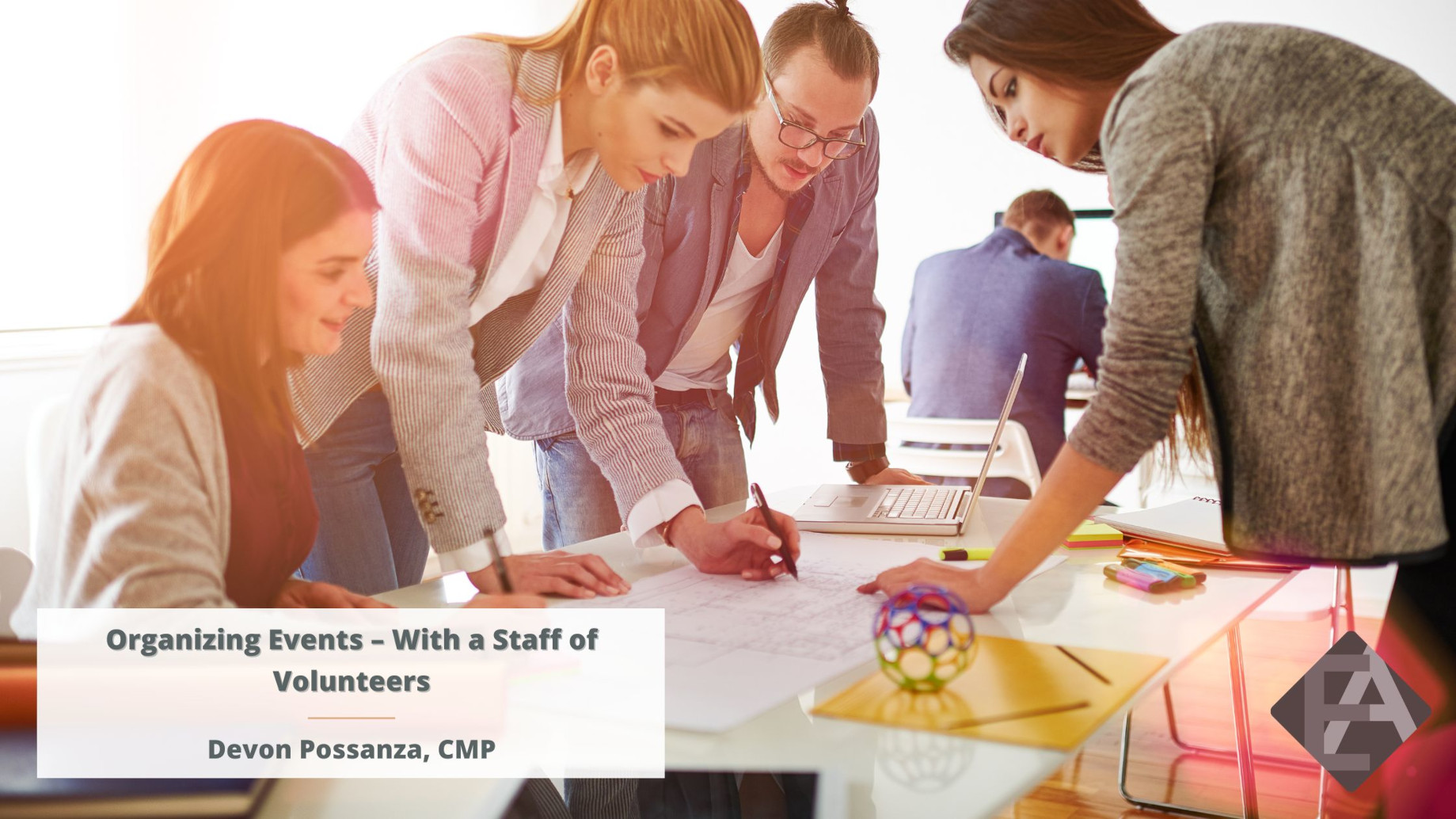 Author: Devon Possanza, CMP
Events are often the lifeblood of your association. They are the big-ticket activities that draw in members and encourage thoughtful participation. They can also be key to generating revenue for your association. To ensure the success of each event, a dedicated staff must spend countless hours planning and preparing. However, not every association has this kind of time to spare.
Many associations are comprised of committees of volunteers. These members take time out of their lives and busy schedules to ensure that their association runs smoothly – without compensation. They take on these events and activities because of their passion. Though this passion is key, most volunteers are not experts at planning events themselves.
Volunteers can be incredible assets when organizing an event. They are beneficial because of their historical knowledge of the event or are well-connected within the profession. These members know how the event should run, the resources that will be needed, and who should fill a speaking slot.
However, professional organizations with experienced event planners make a huge difference. Professionals have knowledge of hotel contracts, food and beverage requirements, audiovisual needs, room set-ups, conference budgeting, and more. This all lends to a better coordinated and organized event. Professionals take all the work off of the volunteers, allowing them to focus on other needs both within their industry and within their roles on the committee.
When planning an event for an association, there are key aspects to consider regardless of who is organizing:
The number of attendees.
A draft schedule. This shows a basic timeline and components of the event, such as meals, education sessions, social events, etc.
A recent financial history to illustrate the typical number of sleeping room rates that need to be reserved, and the total spent on meals for the past three events.
An idea of a location or region.
This information is only the start. Volunteers are essential to an effective event but turning to professionals can simplify and streamline the process. Planning events is not a part of the job description for many professionals in an association. At Easter Associates, we have a staff of experienced event planners – two of which hold CMP credentials. If you are looking to hold an event, give our team a call to see how we can help alleviate the workload of your association's staff.