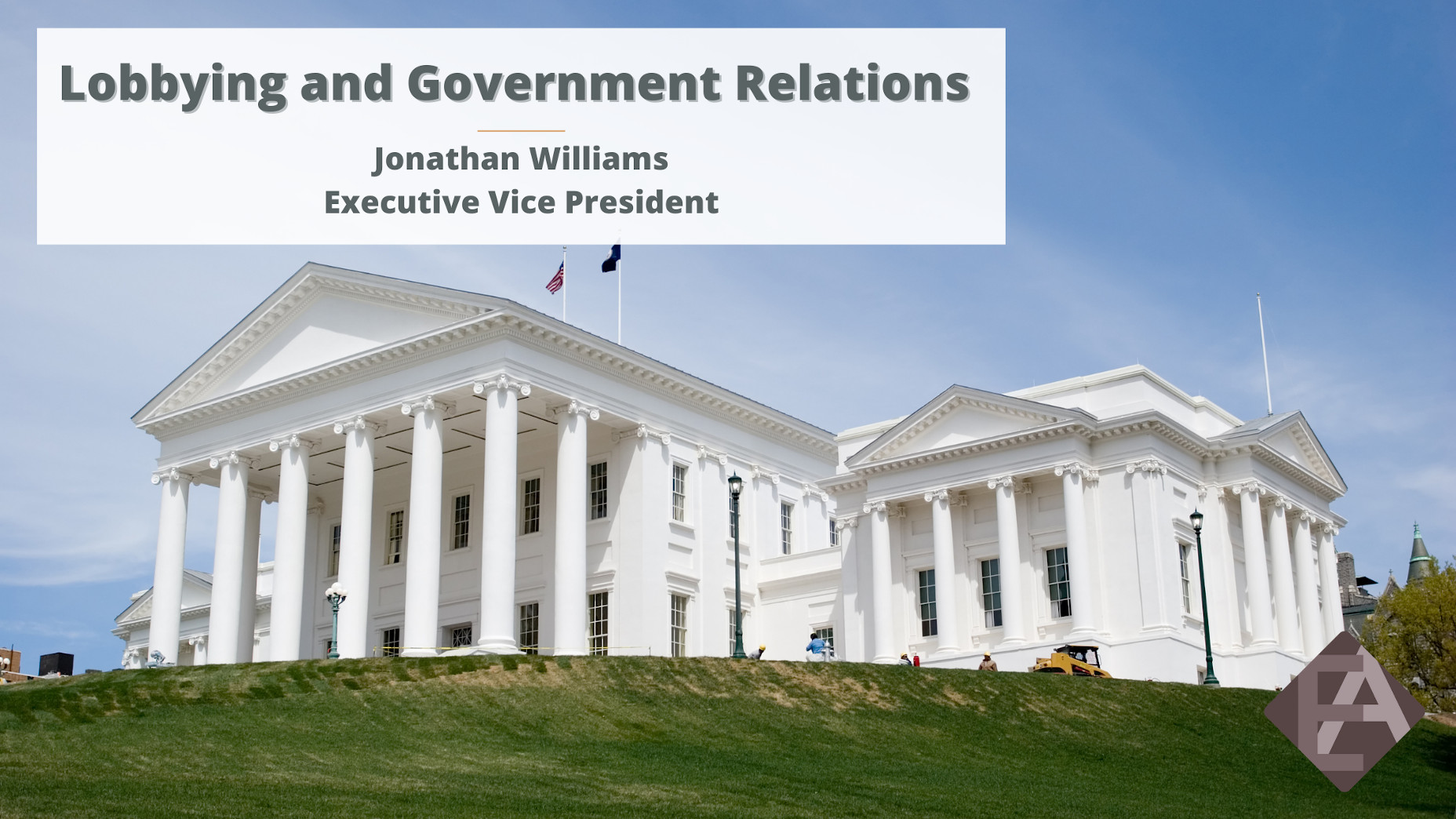 By: Jonathan Williams
At Easter Associates, we pride ourselves on delivering a wide variety of services to our clients. One of the most important is lobbying and government relations. Being a successful lobbyist is a specialized skill, and Easter Associates' staff excel at familiarizing ourselves with the issues facing our clients' industries and acting as an advocate for their positions.
Our lobbyists maintain the resources and connections to help associations of all kinds pursue their legislative goals. We are in daily attendance during the Virginia General Assembly Session*, and we monitor numerous pieces of legislation assigned to a wide range of House and Senate committees.
Here are a few examples of how we have helped our clients reach their legislative goals:
Until seven years ago, radio and television broadcasters had no special designation during natural disasters or man-made crises. As we all know, Americans depend on local television and radio during these types of situations to provide them with information to stay safe. In 2014 our staff successfully lobbied to have radio and television broadcasters designated as "first informers." This designation permits essential station personnel to access their station and ensure that it stays on the air during a man-made or natural disaster.
In 2013, Colonial Downs closed due to a contract dispute with the track owner. The thoroughbred industry shifted its focus to neighboring states, causing a vast amount of revenue to leave the Commonwealth. In addition, our equine breeding program diminished. Our client sought to restore the industry and resume racing in Virginia. In 2018, Easter Associates' team members played a key role in lobbying for a new revenue source to revive the Commonwealth's equine breeding and racing industry. This resulted in the reopening of Colonial Downs and the arrival of hundreds of new horses to the Commonwealth.
Easter Associates is fortunate to work with a wide range of associations. Our priority as lobbyists is to help them advance their legislative goals and to protect their industry. Whether that entails lobbying for or against a bill, you can count on us to look out for your best interests.
If you would like to discuss how Easter Associates can help your organization, contact Jonathan Williams, Executive Vice President, jonathan.williams@easterassociates.com.
*During the COVID-19 pandemic, the House of Delegates will meet virtually, and the Senate will convene at the Science Museum of Virginia. Lobbying will be conducted virtually to comply with the Commonwealth's protocols.