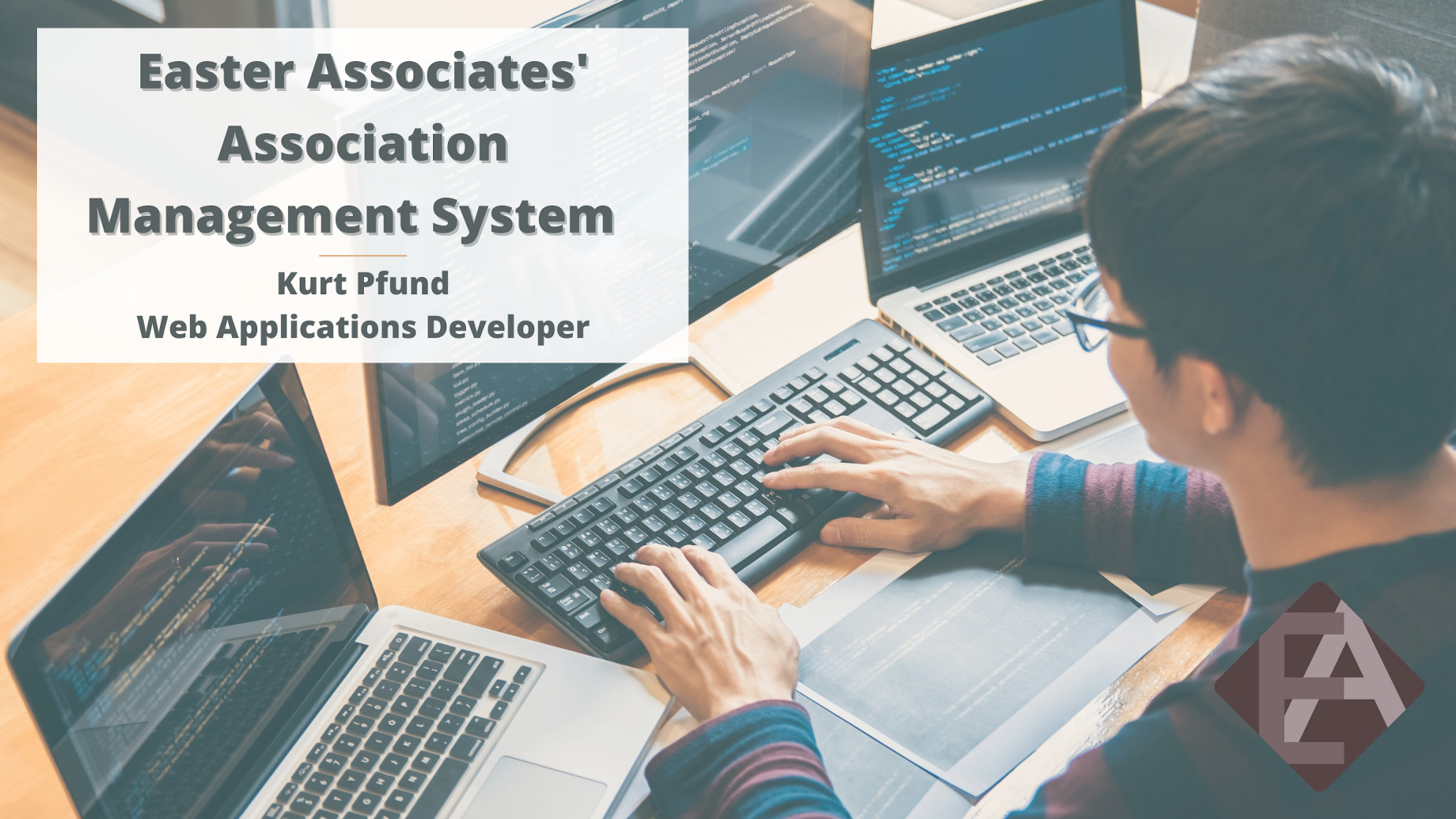 By: Kurt Pfund
Managing an association of any size is no easy task, especially if you don't have the right association management system (AMS) to keep track of all the moving parts. Here at Easter Associates, we utilize a specialized association management system that was developed in-house.
So, let's breakdown the ins and outs of Easter Associates' association management system.
First and foremost, what is an association management system (AMS)?
To put it simply, an association management system helps control and manage membership information, keeping track of who the members are, when their dues are paid, and more. But an AMS can do a lot more than that. An AMS can track behavioral information about members, measuring their engagement in the association and how involved they are.
Why did Easter Associates create an in-house AMS?
There are many great software systems out there, but as we continued to grow and learn more about our clients, we got to the point where we weren't happy with the software we were utilizing at the time. We decided we either needed to invest in creating our own or replace it with a third-party system.
After much research, we realized that none of the third-party systems were going to meet all of our client's needs and we were in a position where it was cheaper and better to create one in-house. And so, our in-house AMS was born. We designed our AMS around the way our clients work and our work process which allows our associations to be more successful. Our AMS shares all of the information throughout. This allows members or admins to make a change in one place and that change will then be reflected everywhere. Without an integrated software system like ours, users would have to input data into each system. This integration increases productivity and reduces the amount of work to keep information updated.
What features make Easter Associates' AMS different from other software systems?
From the beginning, we didn't set out to build everything. There are service providers like Constant Contact, WordPress and Vimeo which do a great job. We designed our software to be able to plug into them like Legos, so they behave as if they are all one system.
Our software is built to manage itself. It tracks members, bills, invoices, reminders, etc. It can accept membership applications and renewals and send to administrators for final review. The software also automates and assists with the maintenance of the membership database, finding and resolving duplicate members, etc. The software is flexible and smart.
In addition, our AMS has an election system to automatically remind members to vote, accept votes and deny duplicate votes all while maintaining the member's anonymity. We also have a custom CMS (Conference Management System), which automates conference registrations, communications, publications, accreditation, speaker and poster management, evaluations, and certifications.
Since the onset of COVID, we have been able to leverage our flexibility to build in video conferencing. Members are able to attend virtual conferences and admins can track attendees and give credit to those who attended. Since we had this system, our associations were able to convert to online conferences quickly when COVID hit. We are really proud of the CMS and are working on adding additional features to serve the long-term changes that are happening as a result of the pandemic.
Do associations have to learn how to use the software?
No. Easter Associates works on the back end of the software since they are fairly complicated systems. Associations interact with the software on their own website, and we are able to give special privileges to officers so they can do communications, notices, etc. on their own if they wish.
Do Easter Associates' clients have to use the in-house AMS?
No. We have one client currently not using our software and we recognize that switching systems is a substantial time investment. However, we do encourage our clients to use our AMS since our team is well-versed in it.
Is the AMS an exact replica for each client?
Yes and no. The software is technically the same for each client, but each client has their own site and while the software follows a pattern, it can look different. Administrators see the same back end, but different features can be turned off if an association does not need that specific feature.
It is important to note though that each association is isolated from the others. Data cannot leak from one association to another.
Easter Associates' in-house AMS is a great service and tool for our clients and something we are very proud of. We continuously upgrade our systems to improve existing services and provide new services. If you would like to discuss how Easter Associates can help your organization with our association management software, reach out to Jonathan Williams, Executive Vice President, Jonathan.williams@easterassociates.com.