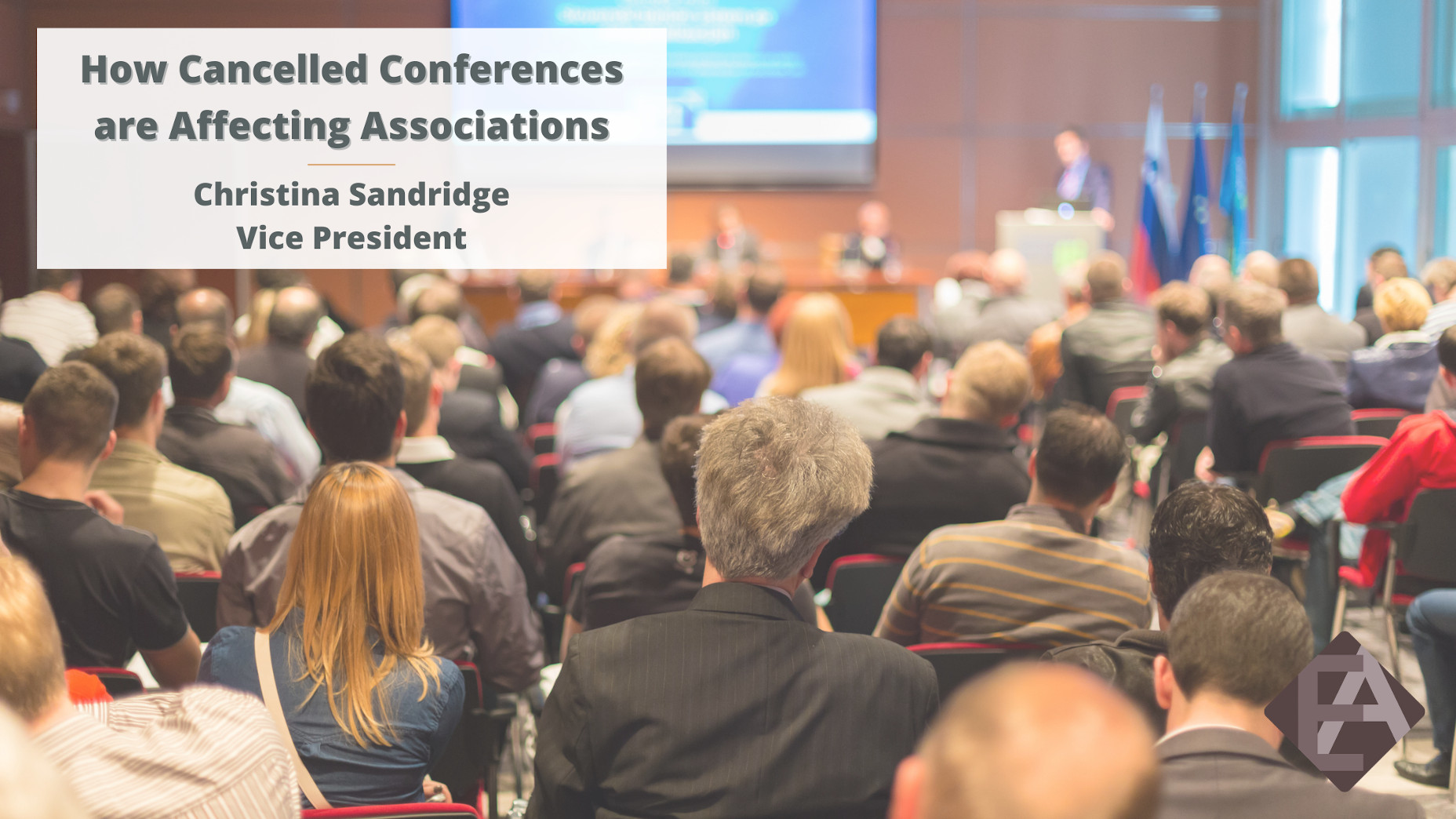 By: Christina Sandridge
We have all experienced disappointment when something we were looking forward to was cancelled. Maybe it was your first high school dance that got snowed out or a vacation that you had to postpone for family matters. Cancelling plans is never ideal, and all of us have experienced this process a lot more since the pandemic arrived last March. The whole world had to cancel its plans, and conferences were not excluded from that process. As we all continue working from home, associations across the globe have been unable to gather for conferences and events.
As someone who has worked in the hotel industry and been with Easter Associates for almost 20 years, this cancellation complication has been on my mind heavily. The way I see it, there are two main outcomes of a conference that associations will struggle most with due to cancellations: finances and networking. In-person events are one of an association's primary revenue sources. Organizers and attendees alike suffer financial losses every time a major conference is cancelled, but revenue is not the only thing taking a hit. The opportunity to strike deals and partnerships, to network, is also wiped away by each cancelled event.
Although conferences may only last a few hours or a few days, they almost always take months to plan. Organizing a major event is no easy task, of course, but cancelling one takes just as much intentional planning. Vendors, performers, attendees, and even communities can be affected by cancelling. For some companies, the cost of rescheduling an event might be more than is affordable. It is for these reasons that choosing to cancel or reschedule is not a simple decision to make.
The answer to this difficult question, how to proceed with your event during a pandemic, is different for every client and situation. It is not a one-size-fits-all situation. When choosing whether to cancel or postpone a conference, it must always be a well thought out decision, one that requires negotiation with partners and vendors to push the event into the next year if possible/necessary. At the end of the day, health and safety should always be a top priority.
While a rescheduled event might leave an association in better standing with participants involved, it may also lessen the impact of the event. Planners should ask themselves if their event will still be relevant at a later time. Refusing to cancel could also bring negative press to an association if you are seen as not taking the pandemic seriously. As professionals in the event-planning industry, we at Easter Associates now create contingency plans for each conference so that if the need were to arise to switch to virtual it is a seamless transition.
In 2020, most of us have also experienced the virtual event. An association may ask itself, "Can I pull off this conference online and will it be beneficial virtually?"
Though the virtual option is viable, it has made a tremendous impact on the hospitality industry. No more are the days of renting out massive, indoor spaces to host panels and hundreds of associates. Entire hotel floors are no longer packed with conference guests. Hotels and event venues have lost immense amounts of revenue over the past year due to these circumstances. Since hotels are currently under the same COVID restrictions and guidelines, most are more than willing to work with associations to move conferences into 2022 with little to no cancellation fees.
But let's look at the bright side of moving conferences virtually for a moment. Although registration fees may be lower, associations are still able to generate some revenue. And with conferences going virtual, more opportunities have opened up for guest speakers that may not have been able to attend in-person as virtual events require less time and no travel. As for networking, many associations have turned to creative events such as hosting virtual happy hours to keep members engaged, connected and informed.
Though many associations are struggling with refunding cancelled conferences and losing networking opportunities, there are also reports that this year has been a good time for the rebirth of associations as people are looking for two things these organizations are experts in: connection and opportunity. This difficult year may be a perfect time for an association to pick up new clients who need our expertise now more than ever, so don't be afraid to seek out new opportunities.
Since the pandemic began nearly a year ago, we at Easter Associates have found creative ways to keep association sponsorships intact. One such way is by creating 'Thank You' posts on social media with the sponsoring company's logo accompanied by tagging their company page and including their website URL in the caption. We also include slides in all association webinars featuring sponsor logos and ensure they are recognized during the live webinars. In addition to these tactics, we feature sponsor logos in all email correspondence sent to an association's membership. These are just a few ways we've worked with our clients to help them avoid losing a significant amount of revenue.
I offer the following as general advice to consider when your association has to make the tough call on the status of a conference.
A controlled cancellation may be better in the long run than a forced one. Even if your community or state has not mandated that you shut down your event, you may want to cancel it yourself before that happens. Forced cancellations can be last minute and messy, and you do not want to burn bridges with any of the participants who will be affected.
You likely have contracts and legal obligations surrounding your event. Do not forget to honor them to the best of your ability. Participants may be disgruntled by your cancellation and bring on breach of contract cases if you do not handle the process with grace. You may also face legal trouble if you don't cancel and your event breaks safety regulations.
If you can negotiate credits, as opposed to complete refunds, you may save your association some serious financial conflict. On the other hand, you do not want to refuse refunds in a seemingly stingy manner and risk losing goodwill with your partners.
In conclusion, deciding how to proceed with an event during a pandemic is no easy task. For anyone in the industry who has ever stressed for days about planning in-person events, you may never have imagined a time when ending an event was your most difficult assignment. The staff at Easter Associates are working closely to brainstorm and share ideas that benefit our clients and ensure they continue to thrive throughout this challenging time. As you press on with your conferences or cancellations, remember safety and always proceed with good temperament.
Have you or your association struggled to manage conferences during COVID-19? Contact us and let our expert team help: christina.sandridge@easterassociates.com.