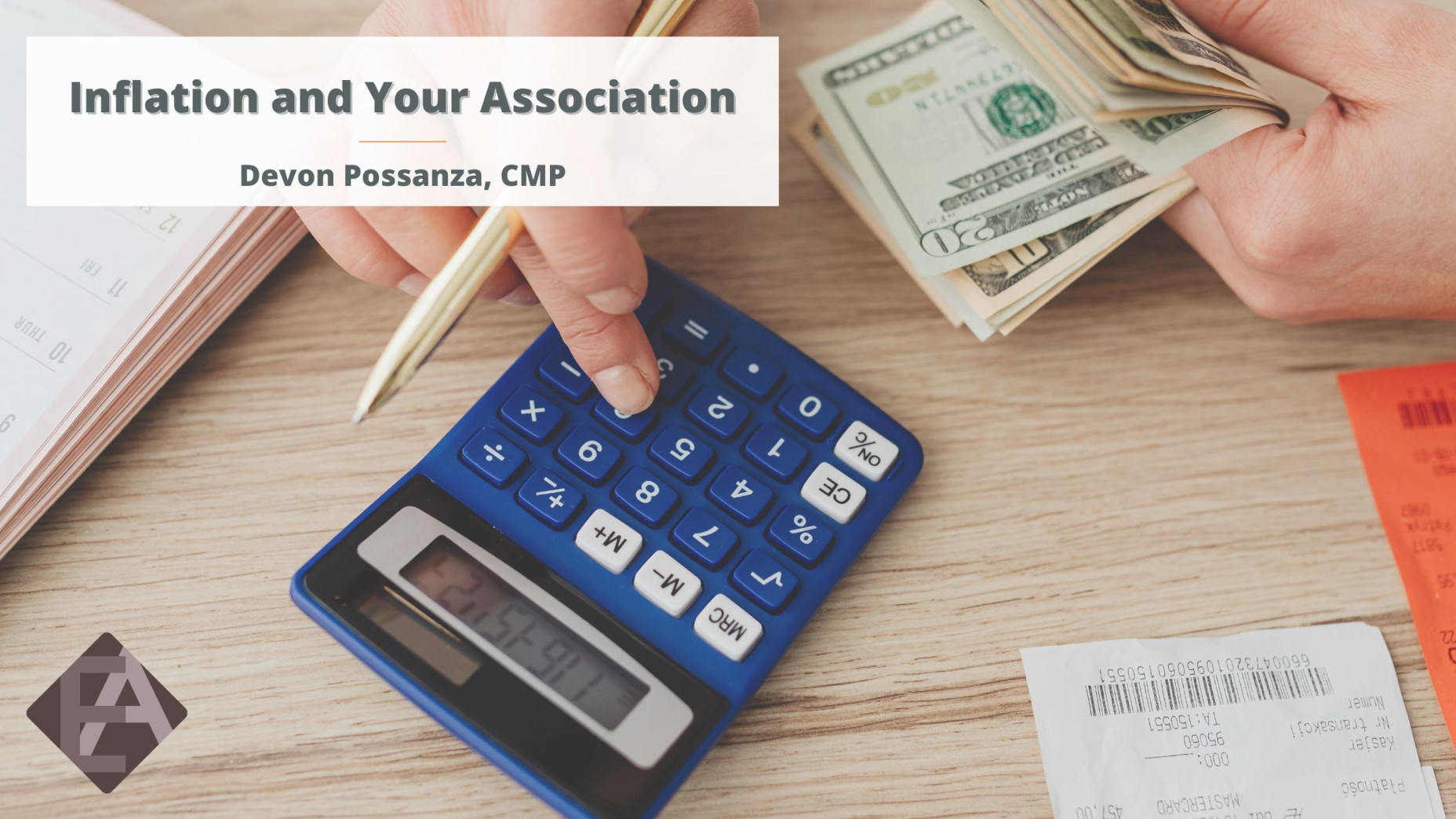 By: Devon Possanza, CMP
Between the rising cost of a dozen eggs or a gallon of gas, everyone has seen the impact of inflation both in business and in daily life. Especially now, budgeting is at the forefront of our minds as we learn to navigate this difficult time. Everyday materials and staffing costs are increasing as a result, and your association must develop a plan for these added expenses. It is imperative to consider the burden that inflation has both on your association and its bottom line, as well as on your members and their own involvement.
During times of economic hardship, events and conferences have even more of a significant impact on budget as most elements are out of your association's control (i.e., hotel room rates, food and beverage, etc.) Though we are able to negotiate ways to save money, such as replacing a dinner with a breakfast or strategically organizing speakers, we have seen that associations are able to push through this difficult period with increased registration fees to make up for the difference in these rising costs.
However, raising registration fees always brings concerned chatter amongst membership. It is important to be honest with your members in tough conversations such as these. Everyone is going through the same struggles brought on by times of economic hardship in both their personal and professional lives. Everyone understands the economic repercussions that inflation is causing. Our team has over 40 years in building engagement and curating events, even during difficult economic times, and can share our expertise in communicating these increases to your members.
Though the cost of operating and hosting conferences is at the forefront of your association's current planning, inflation plays a powerful role in your association's future as well. Aside from increasing dues or registration fees, losing membership is one of the most significant topics to consider. It is imperative to do your best to retain membership throughout hard times. The key is to recognize the impression inflation has on your member's lives and how your association can empathize and work with them. Retaining membership should be considered essential always, but especially during times like these.
Inflation has affected each of us in one way or another. Your association must keep empathy and compassion for its members at the heart of its decisions. If you are looking for some guidance for your association during times of economic hardship or beyond, you don't have to go through this alone! Reach out to a member of our team today.