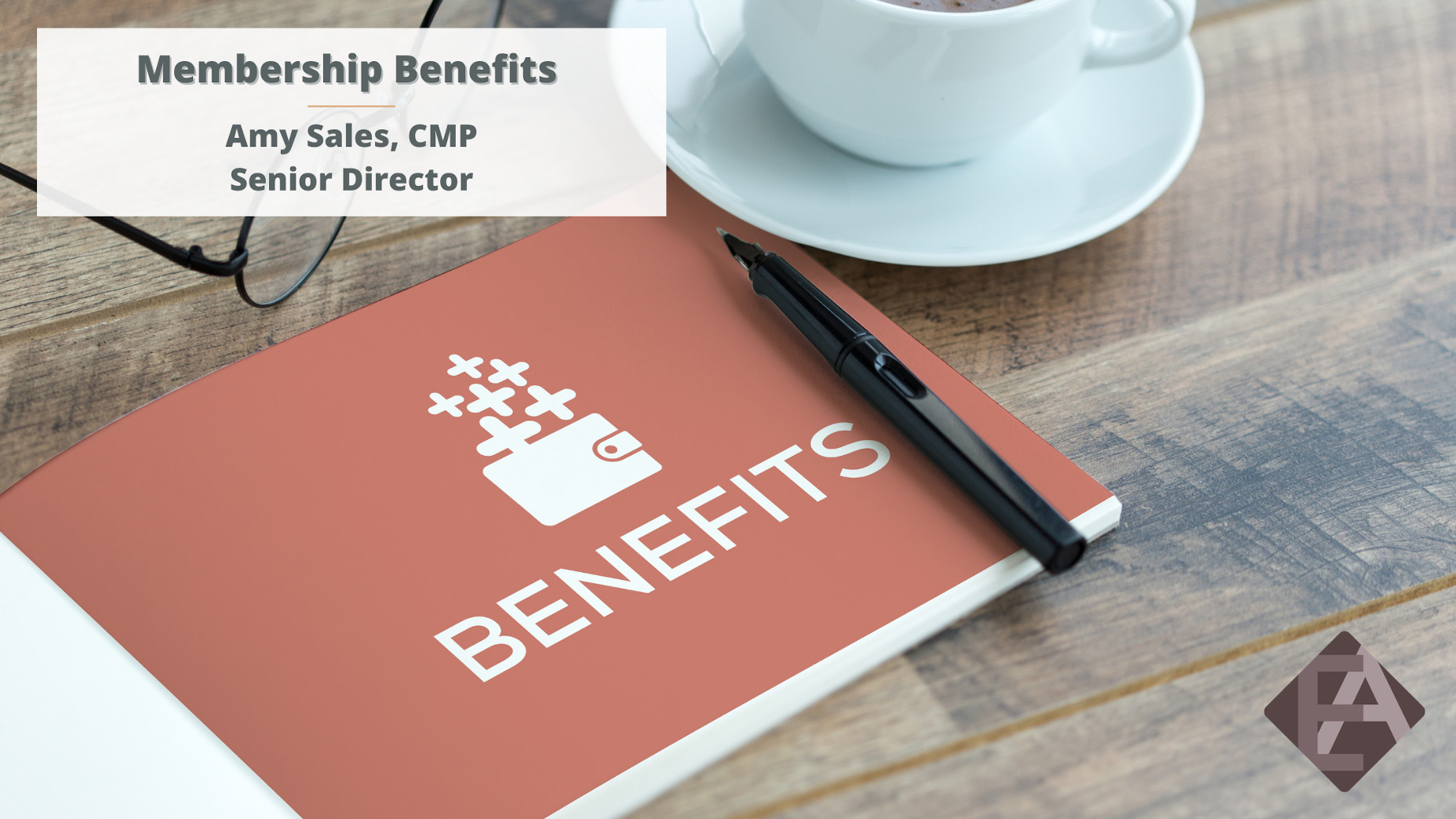 By: Amy Sales, CMP
If you are a member of an association, you likely joined to take advantage of the benefits offered. Associations bring together likeminded folks with individual skills to help them become the best versions of themselves in order to advance the profession as a whole. Associations provide the "pick and shovel" work, so their members can reap the benefits of strength in numbers and perform the legwork for all that would be overwhelming for just one.
If you have never worked with associations, their benefits might not be known to you. Alternatively, even if you are an association extraordinaire, there may be benefits you don't know enough about to take full advantage of. Additionally, a benefit may also be utilized in various ways depending on an individual's needs or the circumstance under which someone is accessing them (think of how virtual platforms have changed connecting over the past year).
Many associations are evaluating their benefits in order to access a wider range of age groups and professional levels within their membership. As you look at your association, or consider joining one, take a look at these membership benefits to offer and/or to enjoy.
Networking and Access to Resources
Have you ever met a stranger and bonded over a singular shared interest? Think of your association as a shared interest that you have with many strangers (but the kind of strangers you're allowed to talk to). Joining an association connects you with a network of people you now have a shared interest with, and most associations host annual events for professionals to connect with one another. Associations are changing the way they connect members and finding alternate ways to host and organize programs. These events are great places to connect, professionally and socially, with peers in your field.
Alongside the interpersonal resources an association will bring, many associations also provide members with access to newsletters, magazines, and other information-packed publications. Directories are one resource that many members and even association experts forget to utilize. Your association may offer a member list, preferred provider list, partners, and more professional resources within the directory. Next time you are doing a deep dive on Google to find just one expert your business needs to speak with, think about how easy it would be to reference an entire list of peers and professionals accessible at the push of a button.
Associations also often recognize achievement through awards programs, which can be a tool if you are looking for a ranking or specific program. Consider sharing your association's awards results with the public, or allow members-only access to specific information. A personal story, I was recently looking for "the best rated" food item in a specific category and went to international and national sites dedicated to this product to access their recent awards programs for more information (ok, to be honest, it was for dark chocolate, and I'll update you on whether what we found is as good as it we hope!). Non-member accessibility did not prompt me to join any of the associations I visited, but their members, the producers, will benefit from the awards information being accessible to non-members.
Continuing Education and Professional Development
As technologies, methods, and resources are developed or evolve, associations often offer educational resources to members that provide updates in their field of work, as well as opportunities for professional development. Workshops, seminars, and conferences are can provide the continuing education requirements specific to the profession, while incorporating social programs to help aid in professional development. Other professional development opportunities can include a mentorship program based on a shared interest or trait among a small group of members. Continuing education opportunities can be as important as the development programs are to your professional life. Seek out these programs in your association for maximum membership benefits.
Exclusive Job Offers
Finding a job can be a job in itself, but being part of an association can get your foot in the door. Many organizations offer resources to help members break into the job market or find a new position. If you run an association, consider that job boards attract new members, or, alternatively, by offering job boards to members only, hiring coordinators will know that they are getting exclusive access to professional applicants only and may be more inclined to share (and even pay a fee for sharing) opportunities with your members. Your association has the networking power that makes connections happen. Associations can partner with employers and experts to create exclusive job offers for their members, exemplifying a great membership benefit of associations.
Volunteer Opportunities
Members often volunteer for many reasons including supporting a cause and gaining professional experience. Associations offer specific, organized volunteer opportunities for members who may not know where or how to engage in these activities on their own. Volunteering provides good experience, and good PR, for companies and individuals, which is truly a benefit for all.
Virtual Benefits
Virtual benefits have always been a part of association membership, and these benefits are being recognized more often since COVID-19 has made many connect only virtually. Associations have often formed online member communities to engage members, post resources, and provide support all in one place and help connect members in real time rather than just when the group has a meeting, event, or conference. Virtual events allow associations to show they are dedicated to their members' success and force us to create opportunities to engage with others not utilized during in-person programs. They offer great opportunities to develop alternate schedules (86 the two-day conference and sub a week of one-hour lunch sessions), develop new sponsorship or support programs to engage members (utilize real-time surveys offered by virtual platforms), and if your previous event budget provided for benefits only provided for on-site events, consider providing a discount for paid events. Benefits are all around us, we just need to look at what we have and see how each can be tweaked for the present time.
Why Do People Join Associations?
From members-only benefits to networking, associations have a lot to offer and exist to meet the wants and needs of their members. An association often understands the strengths and challenges of its members and can create benefits specific to aid that industry. Whether solutions come in the form of specific committees or weekly newsletters, associations offer members benefits they cannot find anywhere else.
Looking to add more membership benefits to your association in 2021 but don't know where to start? Contact us and let our team of experts help: Devon.Possanza@easterassociates.com.