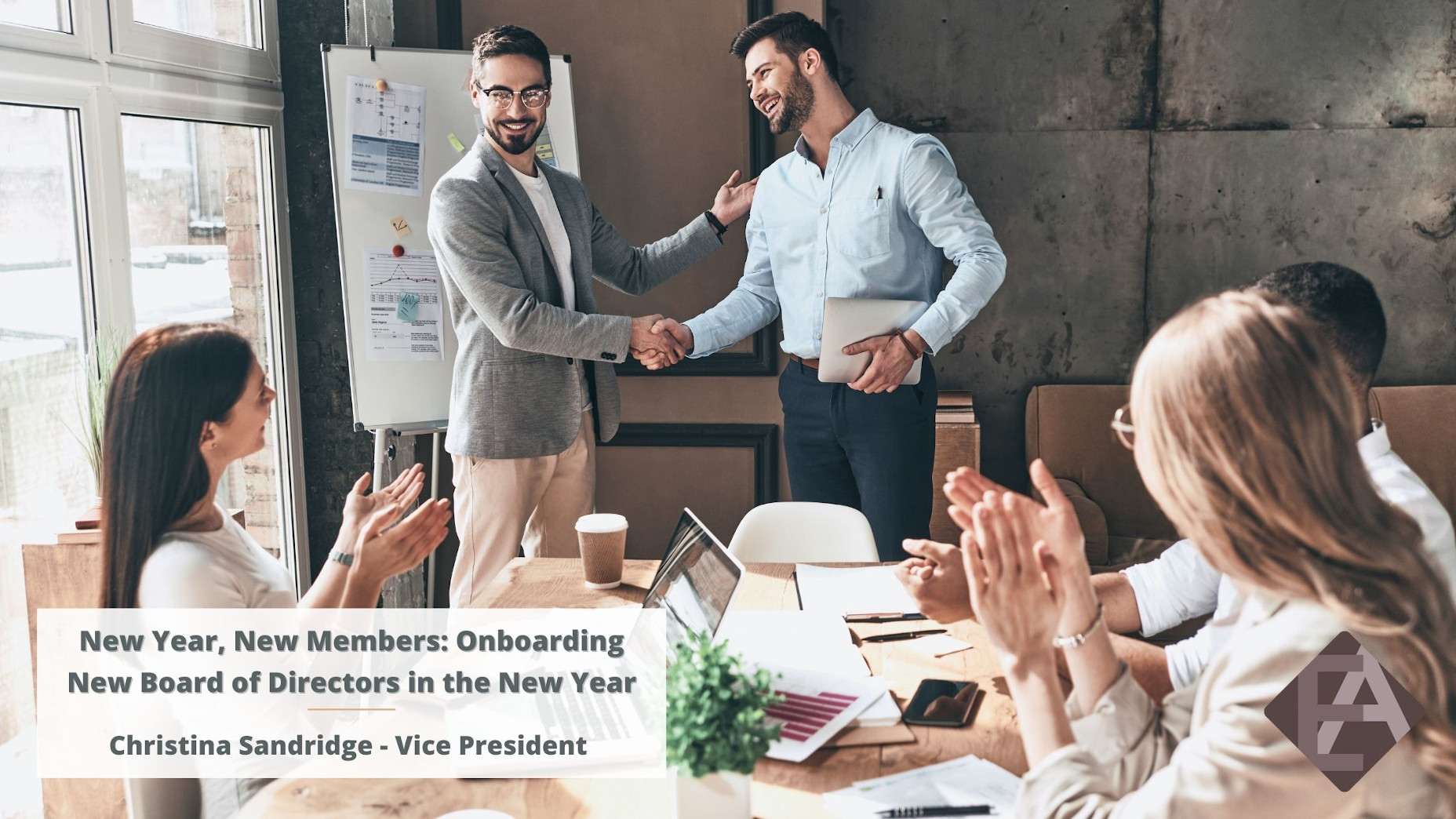 By: Christina Sandridge, Vice President
Welcoming new board members can be an exciting time for your association, but what do you have planned to make sure they have the necessities to start strong?
Oftentimes, associations don't put in the same effort when onboarding new board of directors versus new employees/members. New additions to any association need to be caught up on a lot of information in a relatively short amount of time. This also applies to board members. Leaders cannot be so quick to assume new board members know the ins and outs of their new position. Past studies found that board members who received a proper orientation prepared them to be an effective board member.
Having a proper onboarding process for new board members is important and beneficial. And here at Easter Associates, we can help you! We want to provide your association with helpful information to set your new board members up for success.
Orientation matters
Orientation is important as it lays a foundation for a new board member's entire time with the association's board of directors. Orientation is an ice breaker for the new position as it provides concise and accurate information to make new members comfortable in the job. A lack of orientation may stand in the way of boards taking riskier actions due to people's uncertainty of what is expected of them. Having reluctant board members cannot support your association in the future.
Orientation is not only an essential part of onboarding, but it also has a lasting impression on new leaders and allows them to understand what they can put forth in making the association more successful in the new year.
Solidify the Onboarding Process
Overall, having a solid onboarding process eases members' transition into their new roles and ultimately sets your entire association up for success. In the new year, your association should look into its onboarding process to see if it contains all the steps necessary to welcome members who are new or have been promoted to a new position, so they understand their part in the organization.
If your association is unsure if it has the key elements of an effective onboarding process, here are some key points that we believe should be implemented in all onboarding steps:
Welcome new board members prior to the first meeting:
New board members will be introduced to the rest of the team in the first meeting but connecting them with others beforehand can be impactful. This is a form of professionalism and allows trust and relationships to start to bond so no one is a complete stranger before the first meeting.
But how do you do this?
Your association can extend a warm welcome through an announcement about your new board member's onboarding through its social media, website, and newsletter. Not only does this show them that you're excited they've joined the board, but it also informs current members of the new additions to the team.
Another way to welcome new board members before the first meeting is through a get-together. Whether it's in-person or virtual, getting current and new board members together to break the ice is a nice way to make everyone comfortable with each other. Those initial connections are vital and can help kickstart new members' involvement and make them feel at home. Including key team members also ensures new board members know where and who to turn to as they get acquainted with their new positions.
Host an orientation for new board members:
As stated earlier, a new board member orientation is an event where new leaders in new positions can learn the ins and outs of what is expected of them. The event can also be the time to complete any necessary paperwork or important information. An effective orientation contains the association's mission, strategic plan, financials, and performance measurements. It is important to remember that orientations set the foundation moving forward for a successful outcome by setting the new team on the right track.
Try to take the time during orientation to meet one-on-one with the new board members, if possible, so everyone has a personal impression of who they will be working with.
The overall goal of the orientation is to ensure new board members understand their role and have a description of their expectations. All are important to progress towards your mission.
A Developed Framework = Success
Preparing new board members for their leadership roles takes dedicated time from the associations' current leaders. Easter Associates can guide you through conducting a proper onboarding process. With our assistance, you will be able to develop a strong foundation that can be used as your team continues to grow so your success can grow with it!
If you want to know more, give us a call or check out our blogs to learn more about how we can assist your association in the new year!