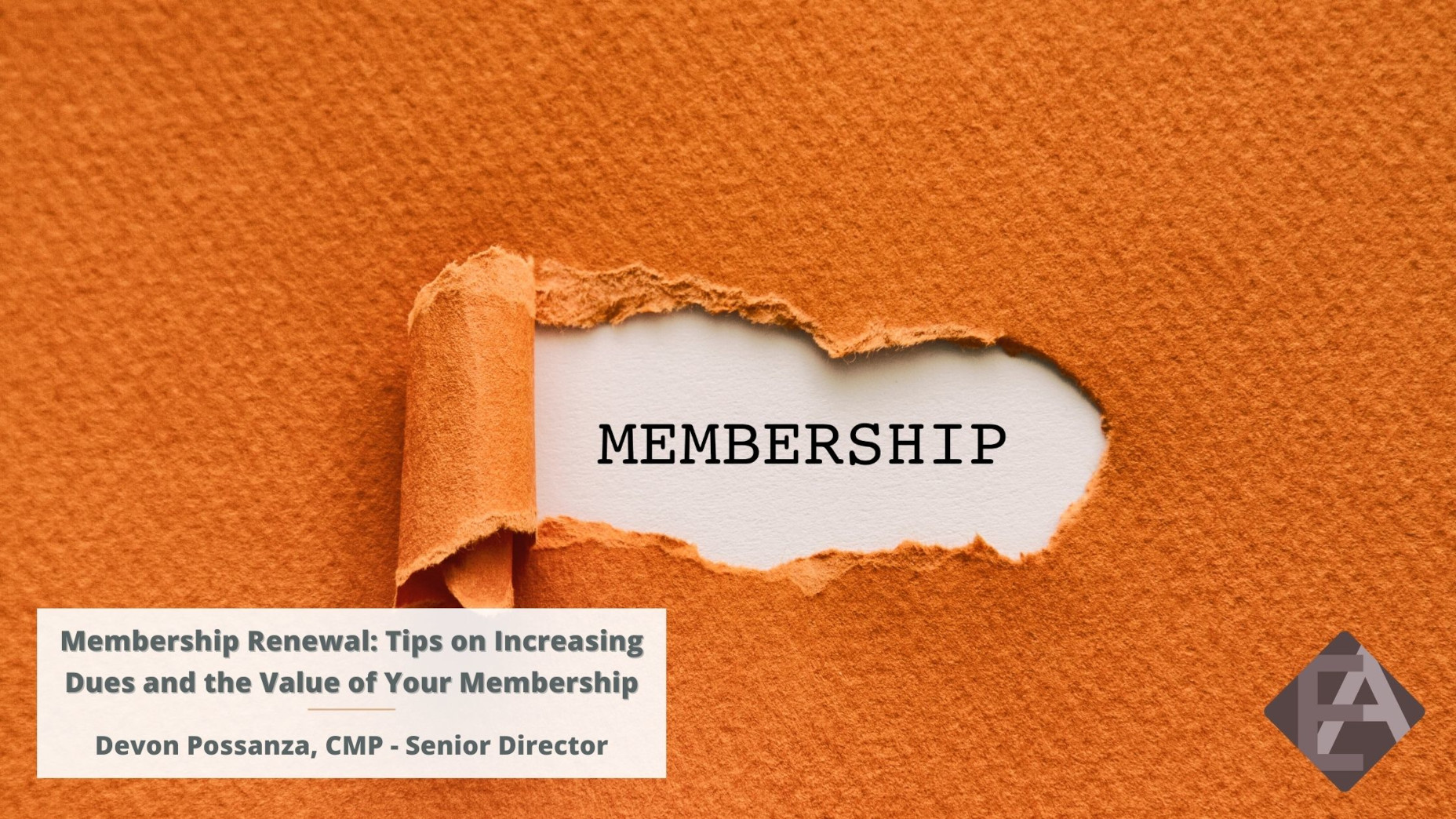 With the new year approaching, many associations are dealing with dues and membership renewals. There's a lot to consider when it comes to the renewal process. There are numerous questions about increasing membership dues and how to have a positive membership retention.
Raising dues can be complicated. Given the pandemic, many associations chose to forgo increasing dues, but as the new year approaches, it's time to reassess. Your association, and how your membership retention looks, can give you insight on when an increase in dues is needed.
Here at Easter Associates, we want to provide you with some advice as you move forward with the end-of-year renewal process. With this advice, we hope you will have a better idea of the best path for your association when it comes to increasing dues. We also want to highlight the value of your members, as they are important assets to each association.
Observe your members
Before implementing changes, it's always a good idea to look at how things are now. Associations need to look at their membership activity. Was there an increase or decrease in membership this year? Are the benefits worth the current dues amount? What percent of members are active?
When you observe your members, you can plan out what needs to change and how to improve your association for the future. Even asking for feedback on dues can give your association a better understanding of what members are thinking.
Remember: not all members are the same. People who joined your association might just be starting out and are looking to advance their career. These members are going to want something different than those who joined at a different stage in their career. Some members may need the association more than ever for their career due to the pandemic. Collecting member feedback allows you to prepare different communication streams when discussing due renewals.
Communicate Deadline
Members should be informed and updated about membership dues in advance. One of the main reasons why associations lose members is because those members were not aware of the deadline and forgot to apply.
Make sure to post about the deadline online and send emails to current members well in advance. It's beneficial to remind your members at least three times: the week before, the day before, and even the hour before the deadline.
Keeping track of who you have contacted can help your association stay organized and ensure no member is left behind.
Conduct a renewal campaign
If your association is looking for a creative and interactive way to remind members about dues, then a renewal campaign just might do the trick.
Here are some tips when initiating a dues renewal campaign.
Start the campaign at least 100 days before the deadline.
Start by sending out emails expressing gratitude to current members. Personalized emails rather than generic "thank you" emails will have a lasting impression on members, reminding them that their membership matters.
Focus on what is valuable at the given time for members and send out reminders regarding the membership's benefits. It's important to remind members of the wonderful benefits your association has to offer.
Post dues reminders on social media and communicate the deadline early.


A thoughtful, intentional dues renewals campaign can help your association avoid looking like spam.
Follow-ups and Feedback
After the deadline, view your membership list. See where your association stands with the number of members versus non-members. Even if you increase your membership, it's always beneficial to ask for feedback, especially if the non-renewals outweigh the renewals.
Send follow-up emails or call to see if past members were informed about the deadline. If so, then it's a great opportunity to welcome feedback as to why they decided to end their membership. Surveys can help collect data, allowing associations to understand what worked and what didn't. If the majority decided not to renew their membership due to the increase in dues, it should be brought up to the board for next year. Don't feel discouraged if your association's increase in dues affected membership. If the benefits (or lack thereof) caused members to discontinue their membership, then your association should take into account what needs to be changed to resolve the issue.
Overall, feedback and follow-ups promote professional growth for your association and will benefit you moving forward.
Remember the value of your members
No matter the purpose of your association, if you focus too much on the industry at large, you won't have any members. Making connections is one of the main reasons members join your association, and that connection has to be retained.
Through social media, newsletters, and member-to-member communications, your association should address member needs and show how your benefits and services are meeting them. The end of the year is a time to remind members about what your association can do for them moving forward, and how their membership is an essential addition.
Without members, an association cannot fully function. It's important to remind members of their value and your association's value. Just as benefits and values help them, the value of members benefits your association.
At Easter Associates, we have experience navigating membership renewals and dues increases for a variety of industries. If you are looking to streamline the process or are unsure about what steps your association should take, reach out to us and let our expert team help!