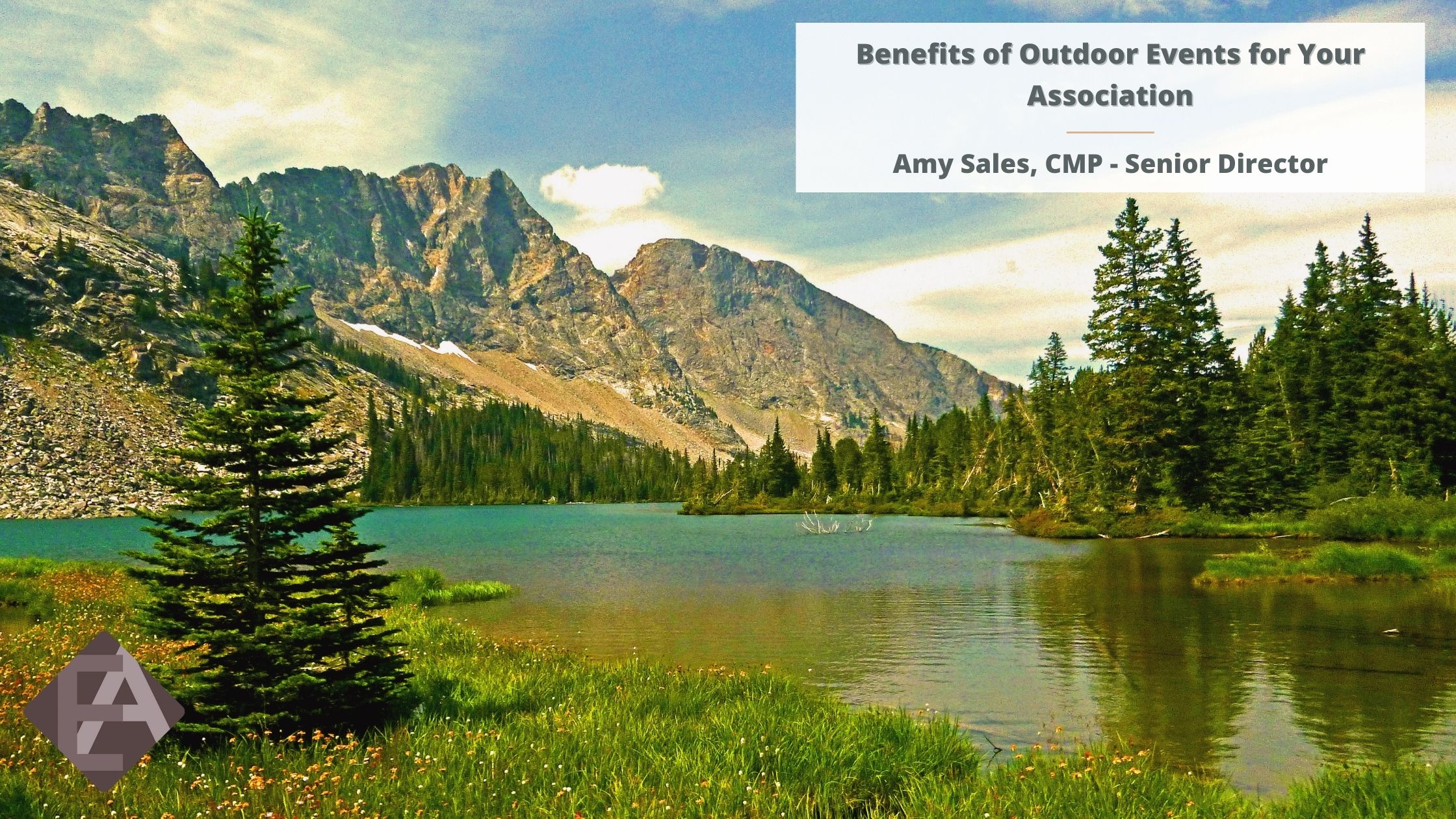 Author: Amy Sales, CMP – Senior Director
Virginia is fortunate to experience four distinct seasons. As we come out of the spring, associations often look outdoors and to Virginia's summer weather to provide the backdrop for events. With summer days away, we are reminded of the phenomenal nature that surrounds us, and the phenomenal staff at Easter Associates is experienced at planning outdoor programs. From educational sessions to non-formal social gatherings, bringing activities outside can give your members a new perspective and fresh air. Different environments can spark creativity, so get out of the hotel ballroom and into the sunlight. Consider utilizing the extra space to incorporate a physical activity with fewer boundaries and allow participants to learn and engage in different ways and create bonds. As you plan your summer programs, we suggest considering the following for the enjoyment, safety, and successfulness of your event.
A change in environment may require additional considerations and caution. Distributing informational emails before the event can tell attendees what to expect and ensure that they are prepared. Depending on the location, this could include event-specific extras such as bug spray or blankets. While setting up, ensure there is good lighting, clear pathways, and a way to communicate loudly and clearly with the group (a megaphone or microphone can prove especially helpful).
Though outdoor events can be incredibly engaging, it is imperative to plan for a back-up. Inclement weather can play a large role in the success (or failure) of an outdoor event. Provide an opportunity for an indoor space where your event can still thrive. Look at where the event will take place and the weather considerations that are typical in the area. And consider the importance of the outdoor program. If bad weather did occur, could the event be altered or cancelled? Is the event integral to your program or an add on?
When planning outdoor events, associations need to take into account the availability and cost of needed services. Often, simple supplies such as tables and chairs are included in your conference space at no cost. However, an outdoor event may require furniture and linen rental, tenting, lighting, AV, catering, and entertainment. Preliminary research will provide an estimate of cost and allow an association to decide the impact on the budget. As you consider the weather, also consider the financial impact. It is important to think about the overall risk and reward of an outdoor event. Is it worth having an event with additional items to consider if the alternative is a successful event?
Our team of expert planners have been incorporating unique and engaging professional as well as social outdoor events into our client's agendas for years. Is there an opportunity to bring your members outside? Chat with a member of our team to learn more.