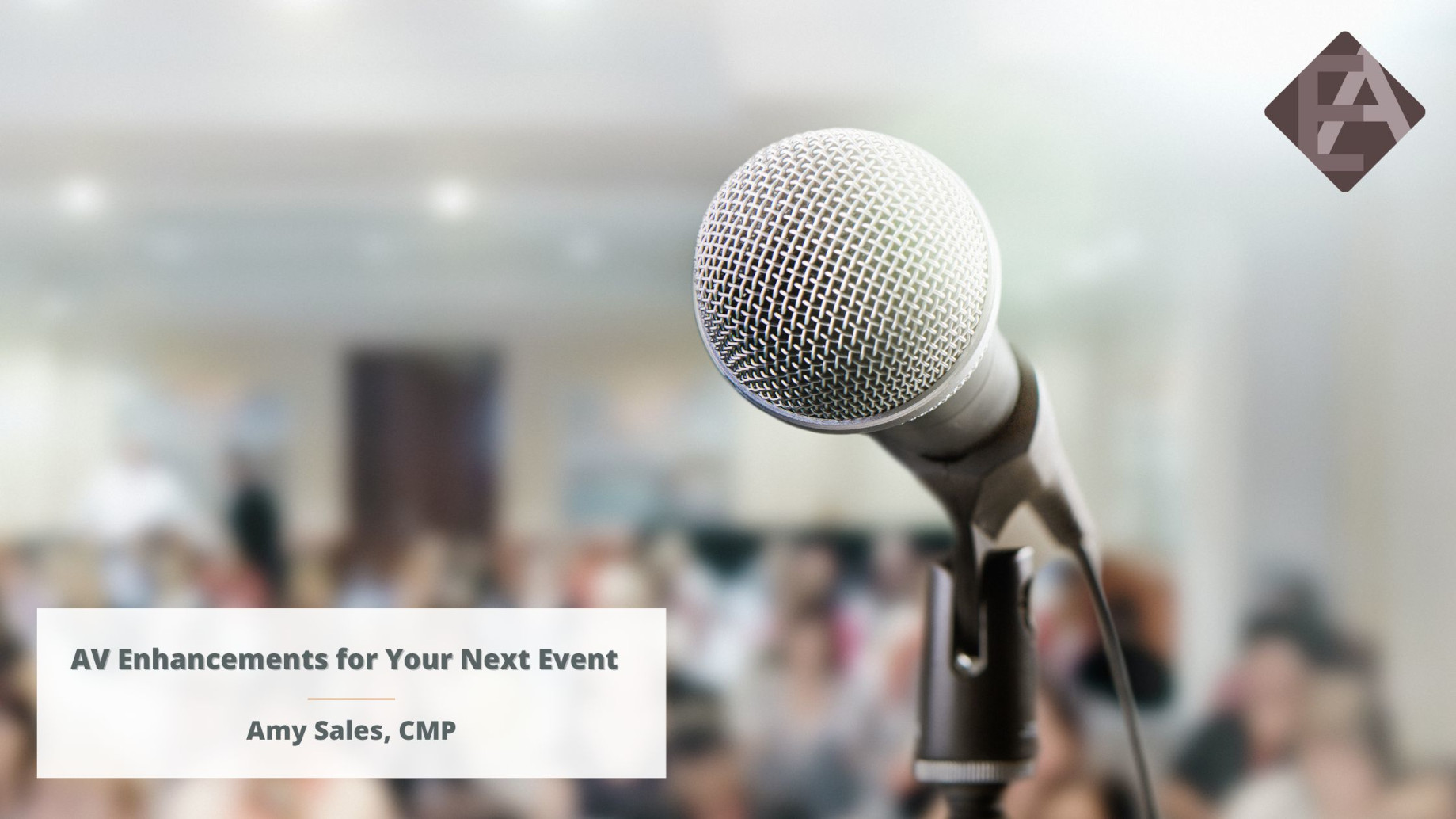 Author: Amy Sales, CMP
Picture it (enter Sophia Petrillo from The Golden Girls): You have paid to attend an education program in an unfamiliar location. It is early morning, and you slept in a hotel bed or got out of your own earlier than usual. While sipping conference coffee you are waiting for the first session to start. And that is all you are doing – waiting and sitting in a large conference room with dull lighting listening to the sound of people shuffling about.
It doesn't have to be like this. Being a meeting attendee should be exciting and inviting. Planners can implement simple add-ons that are affordable, do not require a lot of extra planning, and they can help your program run smoothly, positively affect the mood of attendees, and encourage audience interaction.
Our team has been planning and executing top-notch events for years with the help of key audio-visual (AV) enhancements for our clients. The benefits of a simple AV enhancements, including lighting and music, offering various microphone types, and addressing speaker needs, can make a huge difference in your event.
With our clients, we have found that the most popular, and easy to implement enhancements, are up-lighting and music. Floor-set lights align with the walls and can show a single or rainbow of colors. This can be a great way to set the mood at an event: associations often use yellow or orange for an education session to help boost energy, while blue and purple can set a more casual feeling. Music is also a great way to set the tone as well. This can help an event feel livelier and is a great background for registration, mealtimes, or break times between sessions.
Typical events with a Q&A session following a presentation might have audience members line up to speak into a centralized microphone or have one person run around with a handheld microphone. This leads to many issues and can prevent some attendees from speaking up. Our team is a fan of the Catchbox, a soft-padded, cube device that has a microphone inside. This box is quite literally thrown around the room and is a unique way to encourage the audience to pay attention.
It is important to think about how your speakers could benefit from AV enhancements, as well as how your audience might benefit. A presenter screen is one that sits in front of the lectern that faces the speaker and shows what slide is on the projector. This is out of the vision line of attendees and is a great way to help your speaker have a steady flow while presenting and strong alignment with the slides. Speakers also enjoy the opportunity to select the microphone that works best for their presentation style. For a speaker that moves around, they might select a handheld or lavalier microphone compared to a set stand. Allowing speakers to move about the stage or room breaks up the eyeline of the audience. Switching between moving and sedentary speakers is a great way to keep audiences engaged.
Cost is absolutely a factor to consider when it comes to choosing the best AV enhancement. Luckily, many of the tools mentioned above are affordable add-ons. We have found that often, an enhancement (or two or three) is worth it. If you are on a budget, consider adding an AV sponsor. Enhancements might add a positive ROI in your attendee and speaker evaluations. These might be small changes or additions on your part, but when feedback is made more positive with the inclusion of these enhancements the value is clear.
The key point to remember with these enhancements, is to find the options that work best for you and your members. Our team has plenty of expert tips and can guide you towards the right selection for your next event – even if your event is virtual or hybrid. Give us a call to see how AV enhancements can work for you.