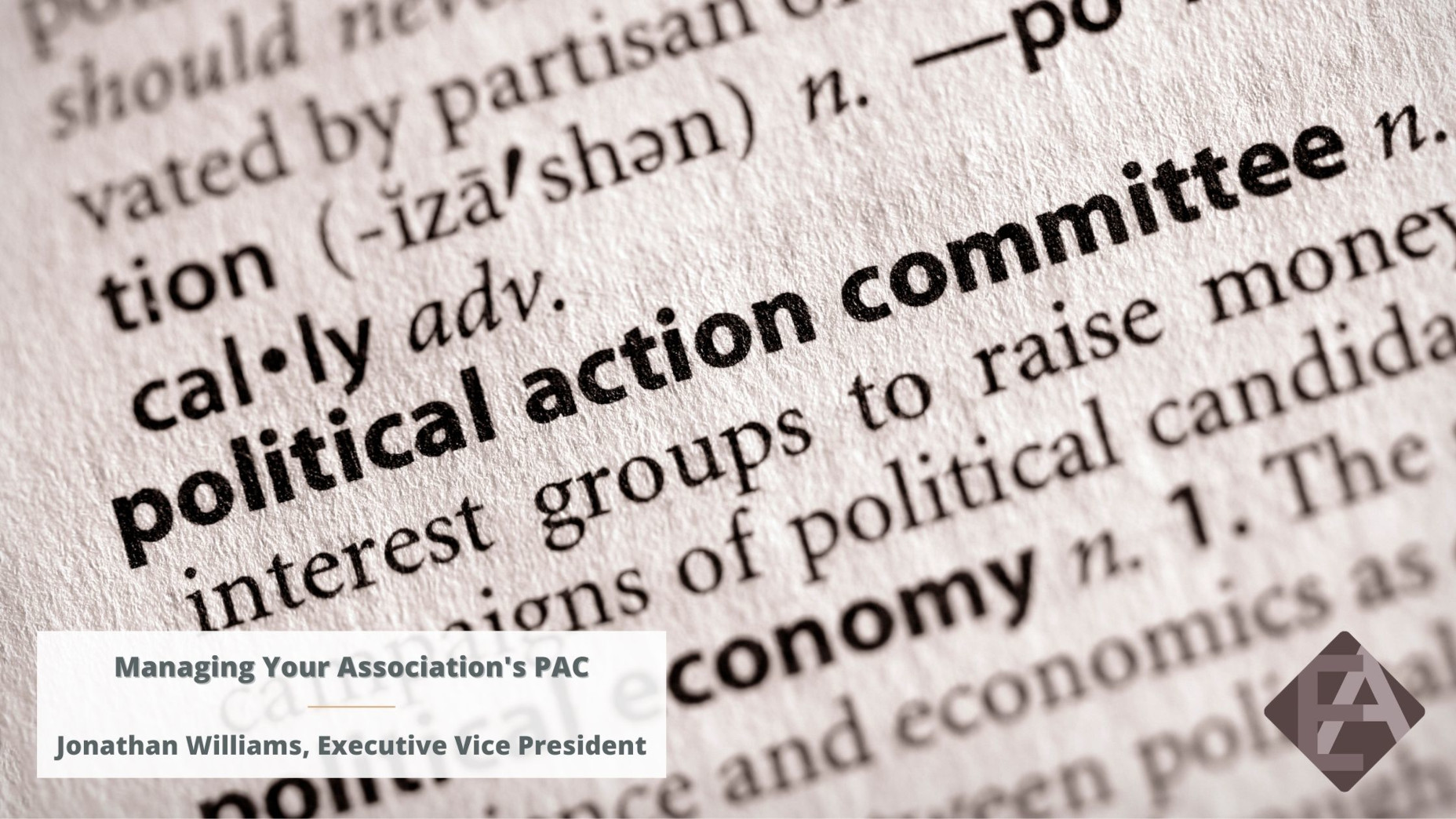 By: Jonathan Williams, Executive Vice President
Election season is upon us once again, and campaigns are in full swing to get people ready to vote. Associations and industries are supporting candidates during this time as well, mainly through the use of a crucial advocacy tool, the political action committee (or "PAC" for short).
What is a PAC?
A political action committee is an organization that solicits campaign contributions from its members, and then donates funds to support or oppose specific candidates. In Virginia, associations can create a PAC through registration with the Virginia Department of Elections.
Why does my association need a PAC?
Elections impact your industry, and PACs impact elections. The more political contributions a candidate receives, the more they can spend on getting their message out to voters through TV, radio, digital, and print advertising.
With a PAC, associations can indicate their industry's support for specific candidates as one unified voice, instead of relying on individuals or companies. Furthermore, candidates who receive support from industries are more likely to look out for those industries when helpful or harmful legislation comes before the General Assembly.
How can Easter Associates help?
As confirmed by a recent Public Affairs Council biennial study, if you want to establish a PAC for your association you will need the full commitment of your board of directors and staff. Once you have that, Easter Associates can provide the necessary resources for effective PAC management.
Easter Associates can manage every aspect of the administrative side of a PAC. For associations that do not have a PAC, but want one, we can register a new PAC with the VA Department of Elections. For those that have an active PAC, our accounting staff will provide financial management and make sure all the required filings and reports are submitted, and our lobbyists can help identify which candidates to support.
Easter Associates can also implement fundraisers to help associations with their PACs. We hold PAC fundraisers at association conferences in the form of golf tournaments, silent auctions, etc. We also do PAC drives via print and email, and even coordinate events for specific candidates.
If your association is interested in establishing a new PAC or finding management for a current one, please do not hesitate to reach out!